We offer the service from a small amount to a great amount of production of fabricating metallic parts under customer's design, adding value and being our main process of the machining parts.


We make bolts, fleches, bushings and pieces on customer's design.
Materials that we handle:
-
Steel to the Coal,
-
Steel to the Coal,
-
Aluminum,
-
Bronze,
-
Brass,
-
Nylamid.
We offer more services like: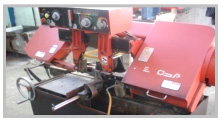 - Metal cutting high production in sierra tape.
- We have equipment adapted for the handling and transport of steels,
raw materials and finished product.